ENGINE 5, 7 LADDER 1 & 415 assist Auburn in a 2 Alarm Fire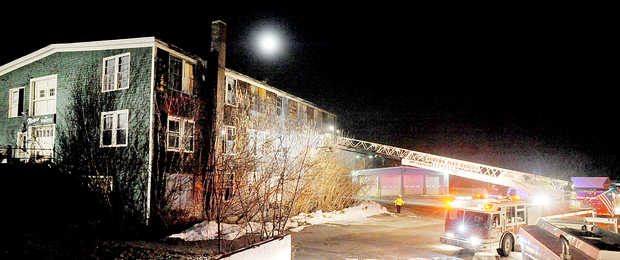 AUBURN — A fire in an abandoned warehouse on Turner Street on Wednesday likely was caused by squatters who were trying to keep warm, fire investigators said.
The 4:30 p.m. blaze on the second floor of the former Morin Fine Furniture & Refinishing shop forced the closure of several key streets as police and fire crews rushed to the scene.
No one was hurt in the fire. Crews knocked down the flames within minutes after several callers reported smoke pouring from the windows of the three-story building.
Fire officials later Wednesday were breathing sighs of relief: The building that burned is full of debris, including old paint buckets and other flammable items, they said. A fire there could have spread very quickly.
"It's a dangerous building," said Richard McFadden Jr., battalion chief at the Auburn Fire Department. "I thought we were going to be there all night."
The building at 177 Turner St. recently was taken over by Auburn Savings Bank.
Officials said several transients had been staying in the building. The blaze was considered accidental, likely caused when the group tried to start a fire for warmth, McFadden said.
The people were ordered out of the building. Later Wednesday night, investigators from the State Fire Marshal's Office were looking over the structure.
A passer-by reported seeing flames inside the building just after 4:30 p.m. As firefighters arrived, heavy smoke was rolling out the windows.
The fire caused major traffic problems as police were forced to block off key areas on and around Turner Street. Great Falls Plaza, often used as a through-way between Court and Turner streets, was closed. So was the street in front of Androscoggin County Superior Court, one of the most heavily traveled areas in the city.
While emergency crews responded and dealt with the fire, traffic backed up along Longley Bridge into Lewiston. Traffic along Court Street in Auburn slowed to a stop, with commuters stuck for several minutes at traffic lights.
No one was charged in connection with the fire, although it remained under investigation Wednesday night.