Second Multiple Building Fire in a Week
Dozens rousted in fast-spreading fire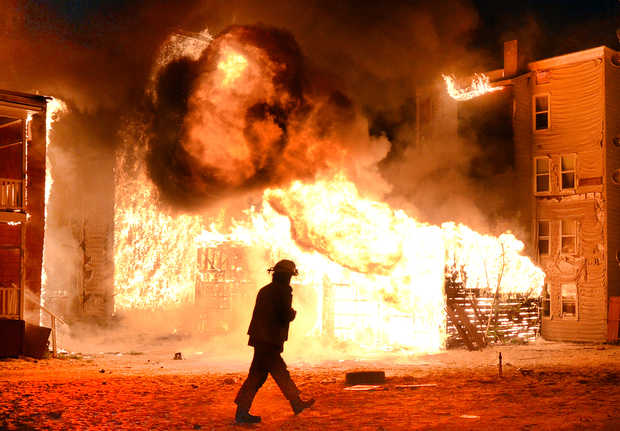 LEWISTON —Fire investigators were searching for a cause on Saturday and relief organizations were trying to find space for displaced tenants after fire swept through several buildings on Bartlett and Pierce streets late Friday.
At least four apartment houses and a garage burned, sending residents scurrying into the streets and bringing fire crews from more than a half dozen towns.
At about 10:15 p.m. Friday, a garage behind 149 Bartlett St. went up in flames. Within minutes, the apartment house was burning and flames were jumping to nearby tenements, including two on Pierce Street.
"People came running out and they just scattered," said Scott Vachon, who lives near the burning buildings. "People were screaming, 'Fire! Fire!' Mothers were screaming for their children. Other people were just shouting and crying. It was terrible."
Vachon believes the garage was intentionally set on fire. The flames moved unnaturally fast, he said, from one part of the building to another.
"The fire just kept climbing and climbing," he said. "It caught the building on fire and it just lit right up."
By early Saturday, one minor injury was reported.
The scene, between Birch and Walnut streets, was pandemonium from the start. Hundreds of people filled the streets and sidewalks, screaming for each other and trying to locate missing loved ones.
Several people stood on sidewalks, crying and clutching babies, pets and belongings. Many were in pajamas. One woman leaned against a utility pole, tears rolling down her face as she watched flames devour her home.
One man, who rushed out of one of the burning buildings with just the clothes on his back, was homeless for the second time this week: He had lived on Blake Street, he said, before that building went up in flames Monday.
Robin Johnson was at her home at 141 Bartlett St., with her sons, 5 years and 9 months old, when the building next door went up in flames.
"The fire was so unbelievable. I could feel the heat of it from inside my apartment," Johnson said. "I've never gotten my children out so fast in my life. I think I literally dragged my 5-year-old out. I picked up the baby and we got out of there."
Early reports were that everybody had been safely removed from the burning buildings and from nearby apartment houses.
"I had all my guys getting into those buildings and getting people out," police Sgt. James Theiss said. "It was tough, but they did a great job."
It was estimated that several dozen people will be without homes come Saturday morning. Although, by 1 a.m., police said that number is unclear – some of the buildings that burned were occupied, some were vacant.
Whatever the case, said Lt. Mark Cornelio, "it's another tragedy for the City of Lewiston."
When 149 Bartlett St. went up in flames, it spread to a building behind it on Pierce Street and a condemned tenement to the left. One person was unable to get out of his Pierce Street home because of a disability. Firefighters and police headed in to rescue that person.
By 11:30 p.m., two apartment houses were burning on Pierce Street, at building numbers 110 and 114. It was believed two had burned on Bartlett Street, as well. One man rousted from his apartment said the five-bay garage where the fire started had been condemened for the past six months.
Another man, Shawn Greeley, was in his apartment at 139 Bartlett St. when he heard a commotion next door. When he looked out his window, he saw a wall of flame where the garage stood.
"It was going up real good," he said. "Somebody set that garage on fire, there's not a doubt in my mind."
Rumors of arson were moving up and down Bartlett Street even as the fire was being battled. Lewiston fire Investigator Paul Ouellette was immediately called to the scene. He was calling in the police Criminal Investigation Division as well as investigators from the State Fire Marshal's Office.
Also at the scene was Lewiston police Chief Michael Bussiere, who oversaw the investigation into the fire that left 75 homeless earlier in the week. At midnight, Bussiere was being briefed on the more current investigation.
When the building went up in flames, the fire could be seen from as far away as Auburn. For the second time in four days, a thick cloud of gray smoke floated across downtown Lewiston.
Also for the second time since Monday, the American Red Cross and Salvation Army were sending representatives to the scene. It was not immediately clear how many people would be displaced by the fire.
Johnson, with her two young sons, was unsure of where she'd spend the night. She was told she wouldn't be able to go back into her apartment at 141 Bartlett St. until Saturday at the soonest.
Just before midnight, she stood on Walnut Street wearing pajamas and slippers. She had her baby in her arms and was holding the hand of her son. She looked across the sea of people who jammed several streets around the fire scene.
"Right now," she said, "I have to go find my husband."
The firefighting efforts continued Saturday morning. Officials said the number of buildings directly affected by fire could climb as high as seven.
Auburn, Lisbon, Woodstock, Topsham, Gray, New Gloucester, Paris and Oxford fire departments responded to the blaze, according to early reports.
Early Saturday morning, a stretch of Bartlett Street between Birch and Walnut streets was closed to traffic. Police said it would likely remained closed for hours. A section of Pierce Street was also closed as firefighters continued to battle stubborn flames.
On Monday, three multistory apartment buildings on Blake, Bates and Pine streets were destroyed by a fire. Brody Covey, 12, of Lewiston was charged Thursday with setting the fire behind 111 Blake St. He is expected to be arraigned Monday on three counts of arson, Lewiston police Chief Michael Bussiere said.