"A" shift makes quick work of condo fire.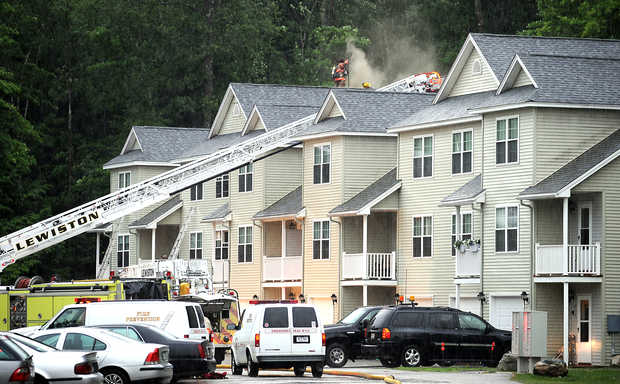 LEWISTON — A lightning strike on the roof of a condo ignited a fire that drove a family from their home Tuesday evening. At about 5 p.m., crews from the Lewiston Fire Department responded to a fire at a condominium unit at 29 Ledges Court.
When crews arrived, smoke and flames were showing at the back of the building, said Fire Investigator Paul Ouellette.
He said two units were involved, 29 and 27. In the course of firefighting operations, No. 29 sustained the heaviest damage, with fire damage to the roof and water damage below.
According to Ouellette, the water damage in 29 runs down the center of the unit from the roof to the basement, making the home unlivable.
No. 27, according to Ouellette, sustained minor damage. "Luckily, we just had to cut a (small) hole in the roof," he said, adding that his crew would seal up the hole until it can be repaired.
Ouellette said damage to 27 was limited to some drywall, a light fixture and three outlets.
Lightning-related storms can be "very fast and very sudden," Ouellette said, and if you can hear the thunder, you are already in the "strike zone."
Randy Mitchell, owner of No. 29, was home with his 5-month-old son when the condo was struck. "I caught it right out of the corner of my eye," Mitchell said, describing a loud bang preceding the flash.
Mitchell said he was getting ready to feed the baby when his home was struck. Suspicious that the strike appeared to shut off his television, Mitchell went to investigate.
Climbing the stairs, he said he started to smell smoke. The smell became stronger when he reached the second floor.
That's when Mitchell grabbed the baby and his dog and ran outside, first calling 911, then his fiancee, Kimberly Dube, who was at work.
Water caused heavy damage to the baby's room, which was in the back where the fire broke out. "Thank God, he wasn't in there," Mitchell said.
As for the misfortune of having his home struck by lightning, Mitchell said, "You always hear about it — never thought it would happen."
The family will be staying with Dube's parents in Greene while repairs are made.