2nd Alarm Fire on 279 Pine St.
Updated On: Jul 193, 2012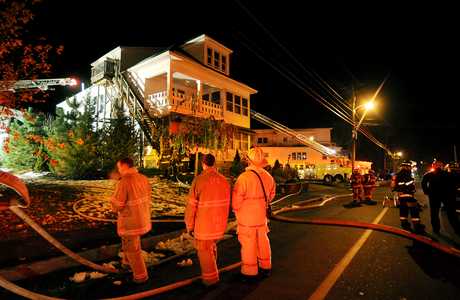 Lewiston fire leaves at least 10 homeless
Published on Wednesday, Nov 2, 2011 at 12:12 am | Last updated on Wednesday, Nov 2, 2011 at 12:12 am
LEWISTON — Joshua Hickey Sr. had finished cooking dinner for him and his son and started a pot of coffee when the lights cut out. He took the little boy down to the basement and reset the fuse box. When they got back to their third-floor apartment, it had filled with smoke.
Hickey stood on the sidewalk outside 279 Pine St. an hour later, holding the 3-year-old out in the cold, watching the firefighters, hoping they would have something to go home to.
"I don't know what to do," he said. "I can't afford to lose anything. Anything."
Crews from Lewiston and Auburn responded Tuesday after Hickey reported smoke in the white, three-story, three-apartment building at 5:55 p.m. Heavy smoke could be seen from the street but no flames.
At least 10 people were left homeless. The American Red Cross helped put some up for the night.
"It was pretty much a smoldering fire, electrical in nature," fire Capt. Paul Fournier said after leaving the scene late in the night.
An investigation into the cause will continue Wednesday. Paul Soracco owns the building.
Fournier said everyone had safely left the building by the time firefighters arrived. He said damage was extensive to the third floor: "We put a couple holes in the roof."
Around dinnertime, a woman who said she lived on the second floor had been at the park with her children and came back to find the house surrounded by firetrucks.
Hickey said his family had lived in the building two years. He was grateful that his wife and 2-year-old daughter weren't home and outside on the sidewalk with him.
Smoke seemed to come heaviest from the bathroom, Hickey said. After he and Josh made it outside, he made a second dash back into the building for coats, boots and the cat.
He told firefighters about two hunting rifles in the apartment, worried the heat might set off ammunition.
"I would have grabbed my guns," he said. Hickey patted his son's back. "My main priority's right here."