Working Fire on Spring Street
Updated On: May 132, 2013
Lewiston firefighters battle Spring Street blaze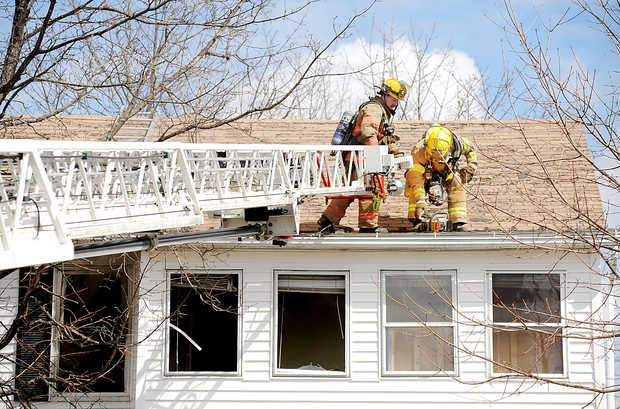 LEWISTON — Firefighters battled an apartment fire on the second floor of a Spring Street building at noon Friday.
The blaze was not accidental, fire investigators said later in the day. By Friday night, the cause was being investigated by Lewiston Fire Inspector Paul Ouellette and the police department's Criminal Investigation Division.
Jessica Kuvaja said she called 911 when she saw smoke billowing out of two windows on the second floor at the back of the three-unit apartment building.
Kuvaja, who stood barefoot on the sidewalk, said she was alone in the building when she heard a sustained beeping sound, but she dismissed it as a truck backing up.
She later saw smoke coming from the stairwell and ran outside.
Kuvaja lives with her husband and two children on the first floor. A woman lives with two children in the front apartment of the second floor.
Misty Cornell lives in the rear apartment on the second floor, according to fire officials. Witnesses said that while firefighters were battling the blaze, Cornell went to the Lewiston Police Department on Park Street to talk to investigators about the fire.
Cornell's second-floor rear apartment was heavily damaged, fire officials said, and will have to be repaired before she can go back into it.
The fire, classified as suspicious, remained under investigation.