Muscular Dystrophy
2015 MDA Check Presentation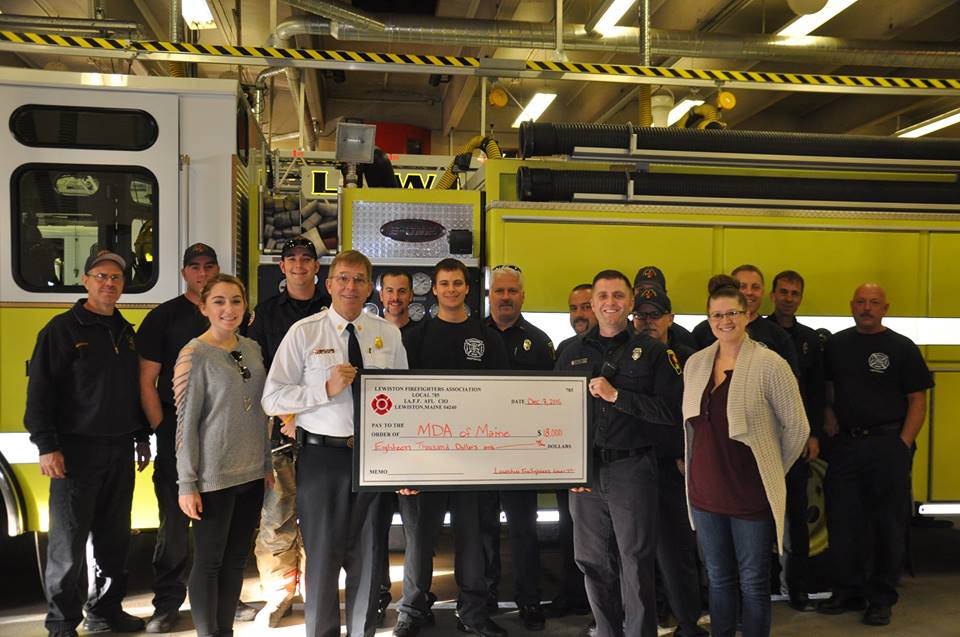 MDA of Maine would like to send a HUGE thank you to the Lewiston Firefighters IAFF Local 785 for working so hard to raise $18,000!! You guys are such an inspiration to your communities and everyone here at MDA, we couldn't be more appreciative for your dedication. Thank you for helping us in our fight against muscle disease!
2013 MDA Boot Drive Check Presentation
LEWISTON FIRE FIGHTERS SUCCESSFUL IN FILL THE BOOT DRIVE FOR MDA LEWISTON, MAINE, OCTOBER 11, 2013 Fire fighters took to the streets of Lewiston to "Fill the Boot" for the Muscular Dystrophy Association throughout 2013 and raised more than $12,700 to help find treatments and cures for neuromuscular disease.

Fill the Boot Manual
Fill-the-Boot Manual Online
June 26, 2002 - The latest MDA Fill the Boot (FTB) event manual is now online. The newly designed handbook contains step-by-step instructions for planning and conducting an effective and successful FTB fundraising campaign.
The manual was compiled by a dedicated team of fire fighters and MDA staff and gives comprehensive and practical information on strategic planning, overcoming obstacles, promoting Boot Drives, involving your community, and much more. It includes information on the history and tradition of IAFF-supported Fill the Boot drives.
"By running a Fill-the-Boot campaign for Jerry's Kids, you are part of a noble effort – one that depends on your support to succeed," said General President Schaitberger.
The manual is being distributed to IAFF leaders in hard copy and CD Rom formats. Please email to mda@iaff.org for more information.
A Touching Letter Written By: Derek Vintinner
Lewiston City Council
My name is Derek Vintinner I am 12 years old and I have Duchenne Muscular dystrophy. I have been the State of Maine Ambassador for Muscular Dystrophy for the last two years because of all of the work I do in trying to find a cure for neuromuscular diseases. The Lewiston Fire Department raises thousands of dollars every year in helping find a cure. They raise money for Muscular Dystrophy because they want to find a cure so that children like myself can live happy healthy lives.
I have had people tell me that the Balloon festival is where they usually give to the Fill the Boot. If the firefighters are not able to raise money at the Lewiston Balloon Festival these people will not be able to give to help find a cure. The Lewiston Fire Department is not out for their own benefit they truly want to find a cure. I went to Heroes for Hope Banquet a couple of weeks ago and the firefighters from Maine met some children just like me and they are ready to help raise money to find a cure.
The money that is raised by the firefighters also helps children like myself go to camp and do things like speed boating, fishing, riding Harleys and four wheelers, and playing sports with friends who also have physical disabilities. Money raised also helps with equipment we may need like wheelchairs, braces and other things to help us with our disease.
About two years ago I met a firefighter Phil Julian on the Lewiston Fire Department and he was not only there helping find a cure, he has also become a great friend to me realizing by getting to know me how much a cure is needed. He always includes me in every fundraiser they have for Muscular Dystrophy and invites me down just to visit all of the time. Last summer the Lewiston Fire Department made me an honorary member of Local 785. I want to be a fire fighter so that I can help people just like they have helped me, but if we don't find a cure my dream of becoming a fire fighter may not happen. So please let the firefighters raise money at the Lewiston Balloon Festival.
A friend of mine passed away last week with cancer because there is not cure. Her name was Abby and she was 12 just like I am right now. So please let the Lewiston Firefighters raise money at the Balloon Festival to help find a cure for Neuromuscular Diseases.
For just one minute I would like to ask if everyone here would just think about how you would feel if you could not run, jump or even sometimes walk. Or how you would feel if you had to watch your child fall down and not be able to get up by him or herself. Sometimes I have to crawl onto the school bus while friends watch from their seats. I am not able to play sports like the rest of my friends. I have therapy at school that makes me very tired I also take steroids that make me gain weight and are not good for my heart and lungs but they keep muscles as strong as they can, with a cure I would not have to take them anymore.
I also know a lot of the other firefighters some who are here tonight, like Rick Cailler, Carlos Ortiz and Matt Wiers who want to help raise money to find a cure so that children with Muscular Dystrophy wont have to suffer anymore, we will finally be able to live long happy healthy lives. So please I am asking that the Lewiston Firefighter's be allowed to Fill the Boot at the Lewiston Balloon Festival so all of our dreams can finally come true.

"And always remember whenever you see a fireman with a boot fill it"
Thank you
Balloon Festival Dispute
Balloon festival: Dispute on boot
Updated On: Jun 06, 2009 (09:01:00)
LEWISTON - Councilors will let firefighters collect donations to help the Muscular Dystrophy Association near the entrances of the Great Falls Balloon Festival in an attempt to settle a community controversy.

The festival's board of directors and the firefighters' union were at a standoff about whether the firefighters should be allowed to collect money for their charity during the festival.

Councilors said both groups are important and do good work and the council urged them to settle their differences.

"If you can't work it out, then mom and dad may have to work it out for you," Councilor Tom Peters said.

Representatives from the festival board of directors said that letting the firefighters' union collect donations during the event works against other community charities that participate in the festival. Those groups, including athletic boosters, church and school organizations, pay a fee for booths to sell food or monitor parking during the event.

Rick Cailler, president of the firefighters' union, said his group simply wants to do what it can to help a charity. In the past, firefighters wandered the grounds of the festival wearing their dress uniforms, asking passers-by to fill a rubber boot with donations.

They typically raise $8,000 per year with their "Fill the Boot" campaign.

Last year, after balloon festival organizers banned them from the grounds, firefighters raised $1,500.

"So you can see this is important to us," Cailler said.

Councilor Robert Reed said he attempted to host negotiations between the groups Saturday at his house, but festival representatives declined to participate. He was willing to withhold city support of the event because of the disagreement.

The Great Falls Balloon Festival is scheduled for Aug. 21-23. Events will be spread over both cities, but will be concentrated at Simard/Payne Memorial Park - formerly Railroad Park - in Lewiston. Organizers asked for the use of city parks and parking lots and for the right to close some city streets during the festival. They also asked the city to provide police officers, public works and other staff, which would cost $15,699.
Page Last Updated: Dec 16, 2016 (02:44:00)