Fire in Pierce Street Building
Updated On: Jul 193, 2012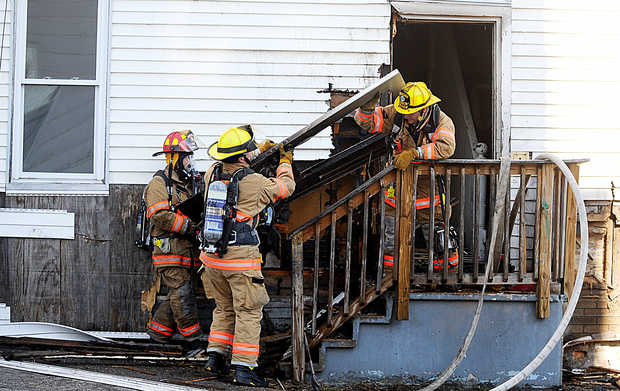 LEWISTON — A vacant Pierce Street apartment building was the subject of two fires in two hours Saturday, and was damaged by the second.
Lewiston firefighters initially responded to a fire at 158 Pierce St. at around 1:40 p.m., when a neighbor spotted trash on fire near the building's front stairs. That fire was quickly extinguished. Fire investigator Paul Ouellette investigated but couldn't find a cause for that fire. He left around 3 p.m.
Less than an hour later, the second call came in. That fire was inside the building, and it was much worse.
Firefighters from Lewiston and Auburn responded at around 3:40 p.m. As smoke rolled from the windows and roof of the three-story apartment building, Lewiston firefighters chopped away the building's siding and front door. Inside were flames.
Owned by Watkins Property Management, the building was unoccupied and undergoing renovations. Property manager Kristina Bennett said renovations had been finished on the first floor and were nearly complete on the second. As she watched firefighters break through doors, ceilings and walls, she said she believed "the whole building's gone."
After the fire was extinguished, Ouellette estimated the damage to be around $5,000.

Firefighters extinguished the second fire within an hour. Ouellette is still investigating how and where the fire started, though initially he believed it started on the other side of the building's front stairs, in an area separate from the first fire.
"I'm not sure if it's a rekindle," he said. "I doubt it."
The investigation is ongoing.