Working Fire at 91 Gagne Street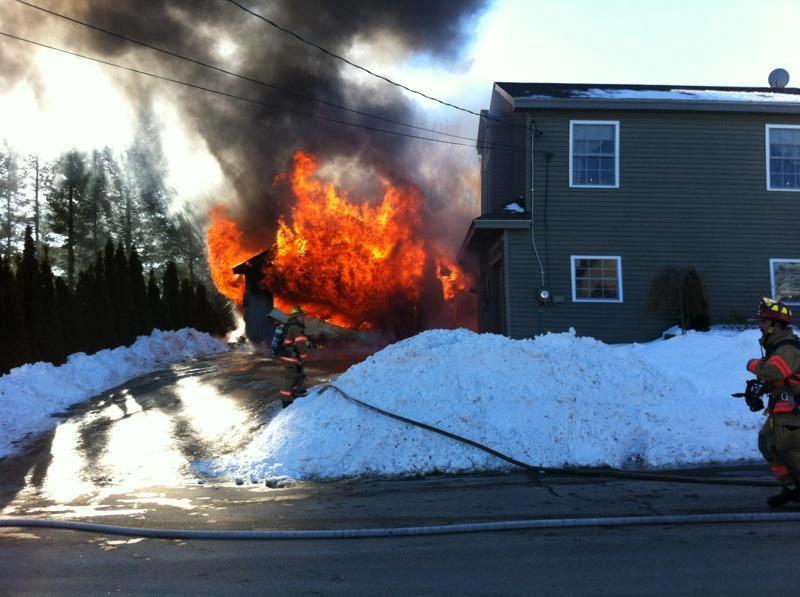 LEWISTON — Firefighters put out a flaming snowmobile and a garage fire Saturday with no reported injuries. The snowmoblie fire happened first, on a railroad bed adjacent to 1789 Lisbon St. "A couple of gentlemen out for a ride," said Lt. David Gideon. "(One) was riding, saw flames and got off of it." He said Paul Lavalliere of Lewiston tried to douse the fire coming from the engine of his 1996 Ski-Doo with snow. Firefighters used water, then brought in a second truck with foam, Gideon said. The machine was a loss. He estimated the value at $1,000.
As that call wrapped up, trucks responded to another call just after noon at 91 Gagne St. for a fire in a detached, two-car garage. "It was fully involved when we arrived, plenty of flames," said Capt. Wallace Veilleux. Firefighters stayed on scene for three hours. The garage had electricity but no heat source, and the cause was still under investigation. Homeowner Phil Theberge had recently started his 1998 Porsche inside, Veilleux said. A 2002 Subaru inside the garage, a John Deere tractor parked outside and the exterior of Theberge's nearby home were also damaged. Veilleux estimated the damage at $80,000. The property was insured.