Garage Fire on Pierce Street
Lewiston firefighters douse garage fire Sunday night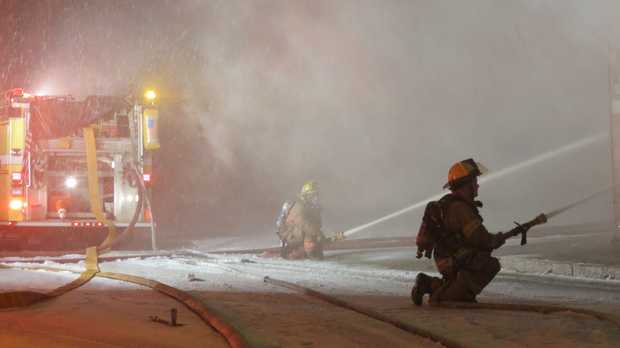 Sunday, December 1, 2013 at 9:52 pm
LEWISTON — A garage on Pierce Street behind Poirier's Market caught fire Sunday evening around 9:25 p.m., closing portions of Walnut and Pierce streets.
Upon arrival, fire crews faced flames showing on the Pierce Street side and quickly began fighting the fire from the street as well as two towers covering from above.
Don Allen, who owns the garage as well as the market and adjacent apartment building, said the garage housed nine to 10 storage units that held cars and motorcycles.
Another bay in the garage was used for broken-down cardboard from the market, Allen said.
"Thank God no one was hurt," Allen said from the fire scene. Allen said he hadn't seen the inside of the market yet but suspects possible flooding in the basement considering the amount of water used.
Fire Investigator Paul Ouellette was on scene as the two towers spraying water from above had shut down. Ouellette described the garage as an "L" shape, with the section closest to Pierce Street catching fire.
Ouellette said the first two bays of the garage were destroyed but did not say the structure was a total loss. "I think it's in good shape," Ouellette said.
Asked if the market had been damaged from the fire, Ouellette said, "From what I'm seeing, no," crediting two walls between the fire and the back of the store. Having not been in the store yet, he said he could not verify smoke or water damage.
Ouellette could not point to a cause immediately but said he will be calling in state fire officials to aid in the investigation.